The recommended way to prepare a Dougie Dog is to use a frying pan or skillet
with a bit of peanut, cottonseed or canola oil. Grilling them is equally good but
boiling is not recommended.
You don't need a seasoned frying pan like this one which has cooked hundreds
of dogs, a brand new one works just as good.
When cooking using the recommended methods use medium-med/high heat and
cook until they are well done on two sides.
When Grilling they'll burst open letting you know they are done.
Serving Suggestions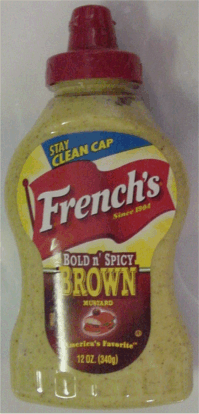 Coneys and Franks are best with a spicy Deli Style Mustard.
At Heid's, no Ketchup is available.

The closest mustard I've found that's comparable to the
German style mustard served is French's® Bold n' Spicy Brown.
Great with Sauerkraut or Grilled Onions.
Shown served on a traditional New England Style bun.
Unfortunately there's no where in this area of the country that sells a New England Style bun. But,
if you would like a good bun that's sliced on the top like the New England style, you can order some
from El Hornito Bakery on 249. (281) 591-1413. www.elhornitobakery.com
Call a day ahead and they'll be baked fresh the next day.
El Hornito recently closed down. I'm looking for another source.
Home | About Dougie Dogs | Order | Product Info | How to Prepare | Mailing List